Honest Kitchen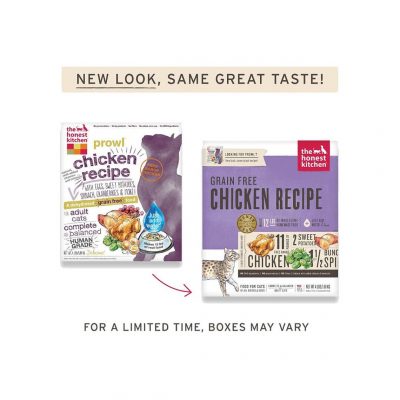 Meat and eggs as main ingredients.
Excellent inclusions throughout.
Well selected vitamins and minerals.
I'm an advocate for dehydrated foods which use human grade ingredients. There's a vast difference in quality between human and pet grade, with the latter often being of a dubious standard. Dehydrated (or drying) is a far better way of retaining nutrients than baking stuff into a kibble. The Honest Kitchen is both human grade and dehydrated, so we're off to a very good start.
Let's take a look at the chicken recipe AKA "Prowl" 🐈
The main ingredients are chicken, egg, potato, and sweet potato. I've listed these together to show the two potato ingredients as significant – neither of which provides much to a cat as an obligate carnivore. Chicken and eggs, however, are fantastic.
The composition is worth boasting about. 39% protein and 28% fat is really good, and allows us to guesstimate the carbs to be around 25%(which will mostly be the potato). That's much better than the majority of other cat foods on the market.
The ingredients as a whole are also worth boasting about. Flaxseed, pumpkin, spinach, and cranberries are all nice to have, and the vitamin and mineral inclusions are well considered. It's always nice to see chelated minerals used as a more readily absorbed and quality choice.
I really like how Honest Kitchen market their products. They're very open about what's in their product and where ingredients are sourced. Most companies don't want you to know these things, because with most pet foods you don't really want to know.
Recommended.
Ingredients:
Chicken, Eggs, Potatoes, Sweet Potatoes, Organic Flaxseed, Pumpkin, Spinach, Cranberries, Tricalcium Phosphate, Choline Chloride, Zinc Amino Acid Chelate, Vitamin D3 Supplement, Vitamin E Supplement, Potassium Iodide, Potassium Chloride, Iron Amino Acid Chelate, Copper Amino Acid Chelate, Sodium Selenite, Thiamine Mononitrate.
Human grade meat! Dehydrated! Bonza!
PROS
Meat and eggs as main ingredients.
Excellent inclusions throughout.
Well selected vitamins and minerals.
CONS
Two significant and rather redundant potato ingredients.