Canidae Cat Food Review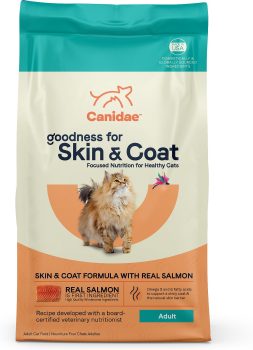 Reliable manufacture with decent track record
Some may remember this as Felidae, but a few years ago was rebranded Canidae like the dog food (originally referred to feline rather than canine).
The more premium Canidae PURE range has shown to be pretty good, reliable, with few logged consumer issues, so what about the cheaper formulas including grain?
Well, they're okay, but far from perfect. This Canidae cat food review will explain why…
Canidae review (for cats)
Canidae is an American brand, but it's actually a big name across the world. They used to be considered a niche manufacturer but they're not, they're huge.
For this review we'll take a look at the Canidae Goodness for Skin & Coat formula of the grain-inclusive range. They have similar products for Digestion, Joints, or Indoor cats too, but if you have more money to spend take a look at the grain-free Canidae PURE range.
Right, let's take a look at the ingredients…
You'll see salmon, turkey meal, and chicken meal in the top spots which sounds great, but it's labelled that way so you believe you're feeding your carnivorous cat a lot of meat.
Not quite true…
Usually I gauge the main ingredients as the ones which come before fat (in this case chicken fat which is a good inclusion). Fat in Canidae Goodness for Skin & Coat is low for a cat food at 12.5%, most of which will come from the chicken fat. That means all the ingredients which come before it will be significant in quantity.
Without going into too much math, there are ten ingredients before fat, so it's possible chicken fat is 9%, and all the other ten ingredients are roughly 9% – so all relatively equal for what would make up 99% of the product.
Still with me?
With that in mind only three of the top 10 equal ingredients are meat – what a cat needs in the diet.
We also have oatmeal and sorghum as grains. Oatmeal is a better grain, but we're talking cats here and they definitely don't need much grain if any. In the wild the only grain they'd eat would be gut contents of prey which is minimal.
We also have four vegetable inclusions – garbanzo beans (chick peas), lentils, peas, and even more peas included as pea protein.
That means the vegetables likely outweigh the meat, and vegetables plus grain even more so.
It's a totally different picture than we originally thought with the three meats listed first!
Given the amount of protein in those grains and legumes it's likely they amount to the majority of the 33% overall protein. Your cat readily digests protein from meat, so these are proteins harder for your cat to digest.
That's the reason they won't eat these foods if you offer them separately.
I estimate carbohydrates around 37% which is okay in terms of cat kibble, but in terms of cat nutrition not great at all. This is testament to the amount of grains and legumes in the food, as meat doesn't contain carbohydrates.
Whole egg as the 10th main ingredient is worth noting as a decent inclusion which is great for cats.
A further tell-tale sign this cat kibble has less meat than you'd think is the inclusion of extra taurine. It's an AAFCO requirement to have over 500mg taurine per kilo, and when it's not provided naturally by meat ingredients it has to be added as a supplement.
Should I feed my cat Canidae?
If there's anything good to say about Canidae Goodness for Skin & Coat for cats, it's the company seems to have a high standard of manufacture and history of reliability. That can't be overlooked.
As a cat kibble it's better than many, which may sound odd considering the review of Canidae Goodness Skin & Coat reads very negatively. There are however much better cat foods with a much higher meat content, much higher protein and fat, and less unnecessary carbs. Those foods will cost you more though.
At least the ingredients are somewhat decent. Oatmeal as an example I consider far better than wheat.
It's still not very species appropriate, so consider that when feeding Canidae cat food to your pet carnivore.
I hope you've enjoyed this review of Canidae cat food. If you have, or if you have anything interesting to say about it, then leave a comment! Thanks!
Where to buy Canidae cat food


For the best prices why not order on Amazon.com?
Ingredients
Ingredients of Canidae Goodness for Skin & Coat cat food:
Salmon, Turkey Meal, Chicken Meal, Oatmeal, Garbanzo Beans, Lentils, Peas, Whole Grain Sorghum, Pea Protein, Dried Whole Egg, Chicken Fat, Suncured Alfalfa Meal, Flaxseed, Natural Flavor, Choline Chloride, Potassium Chloride, Salt, Taurine, Vitamin E Supplement, Dl-Methionine, Iron Sulfate, Iron Proteinate, Zinc Proteinate, Zinc Sulfate, L-Ascorbyl-2-Polyphosphate, Niacin, Copper Proteinate, Dried Chicory Root, Vitamin B12 Supplement, Biotin, Lecithin, Thiamine Mononitrate, Mixed Tocopherols (A Preservative), Sodium Selenite, Manganese Proteinate, Vitamin A Supplement, Calcium Pantothenate, Pyridoxine Hydrochloride, Manganese Sulfate, Riboflavin, Sage Extract, Cranberries, Sunflower Oil, Papaya, Pineapple, Dried Lactobacillus Acidphilus Fermentation Product, Dried Trichoderma Longibrachiatum Fermentation Extract, Manganous Oxide, Yucca Schidigera Extract, Beta-Carotene, Rosemary Extract, Potassium Iodide, Vitamin D3 Supplement, Folic Acid, Cobalt Proteinate, Dried Enterococcus Faecium Fermentation Product, Dried Lactobacillus Casei Fermentation Product, Dried Lactobacillus Plantarum Fermentation Product.
Guaranteed analysis
The guaranteed analysis of Canidae Goodness for Skin & Coat cat food:
Canidae Cat Food Review
Canidae cat food (Skin & Coat) appears meat-based, but the reality is lots of legumes and grains contribute to protein in a form harder for your cat to digest. Cats as carnivore need a significantly meat-based diet, and this kibble doesn't tick that box.
PROS
Reliable manufacture with decent track record
CONS
Not as much meat as you would think