9 Lives Cat Food Review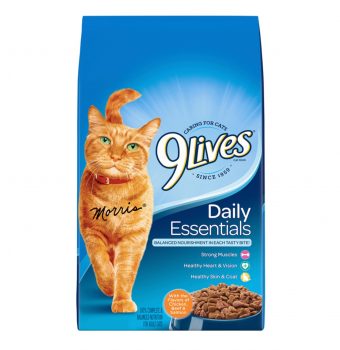 9 Lives is a product manufactured by the J.M. Smucker Company who also manufacture EverPet and Special Kitty (Walmart brand). These two foods are rated poorly, so how does 9 Lives compare?
Let's find out in our 9 Lives cat food review…
9 Lives cat food review (Daily Essentials)
What the marketing says
Firstly, the ingredients list on the 9 Lives website are ALL IN CAPS. I'm sure this is done on purpose as it boggles the eyes and stops you reading the ingredients clearly.
We'll take a look at 9 Lives Daily Essentials for the purpose of this review. After all it's their most popular brand.
The Daily Essentials packaging features a beautiful ginger cat called Morris®, so this cat even has his name as a registered trade mark. How swanky.
The bag says "100% Complete & Balanced Nutrition" which means, like all other cat foods, meets minimum requirements. We also find some claims to support strong muscles, healthy heart and vision, and healthy skin and coat. We'll take a look at those claims in this review and let you know what they really mean.
Lastly you'll see a claim about 9 Lives cat food having "flavors of chicken, beef & salmon". This is a labelling loophole to trick you into believing the product is meaty, but the sad reality is it means those ingredients need to be included in a very small and not very beneficial amount.
Sadly with 9 Lives cat food the marketing is somewhat deceiving, so let's find out why…
What the ingredients really say
Firstly, the ingredients of 9 Lives Daily Essentials on the 9 Lives website are ALL IN UPPERCASE. I swear they do this to make the ingredients hard to read, and it's understandable why when you read what they are.
9 Lives Daily Essentials looks to contain four main ingredients. Unfortunately for your carnivorous meat-eating cat three out of four are corn, more corn (corn gluten meal), and soybean meal. When I studied to be a pet nutritionist the first thing I learned was cats were obligate carnivores who require a diet of animal ingredients, definitely not corn and soybeans.
Does the 9 Lives company not know this? Or are they relying on your cat having 9 lives to live through such a diet?
I'm sure they do, but what they seem to care about more is profiting from your pet.
Meat isn't even listed first, which assures us the first of the two corn ingredients is the most significant ingredient in the food. For all we know it could be 70% of the product, and chicken by-product meal around 7%!
The guaranteed analysis shows fat at 9%, and this will mostly be beef fat as the fifth ingredient. This further suggests the last point – the chicken by-products will be a minimum of 9%.
9% fat is worryingly low.
Yet another jaw drop time – the next ingredient after the fat is wheat. It's a notorious ingredient in a cat food, and I largely suspect one of the culprits behind premature cat deaths. Cat's don't have a digestive system designed for corn and soybeans, let alone wheat.
Another problem with wheat is wheat mites, which play a part in this cereal grain being one of the leading causes of food sensitivities and itchy skin. It will likely lead to weight gain, lethargy, and yes, premature death (after $$$$ in vets bills).
You would assume by now this 9 Lives cat food review would've covered all the bad stuff. After all, we've covered all the main ingredients. But no, it gets worse.
What are all those ingredients near the bottom of the list? RED 40, YELLOW 5 YELLOW 6, BLUE 1, BLUE 2?
Food colorings!??? For your cat????
Trust me on this, your cat doesn't care about the color of their food. Stuff like this should never be in a cat food, but it's there for one reason only – to convince you 9 Lives is a good cat food.
So what you're buying and feeding your cat is colored corn and soybeans, for a meat-eating animal. WTF.
Worse yet, I dare you to google BHA in cat food.
So what about those claims on the packaging about strong muscles, healthy heart, vision, skin, and coat? You might be completely baffled at this stage in the 9 Lives cat food review how this can be true? Well… so am I!
Cat's need animal meats, organs, and fats for optimum health. The simple fact there's some semblance of meat in the product (although doesn't seem to be much) is likely the basis of the "strong muscle" claim. We also find a very small inclusion of salmon meal in the dark depths of the ingredients which will offer your cat very minimal nutrition for heat health, vision, skin and coat.
But not much.
Should I feed 9 Lives to my cat?
No, I wouldn't. 9 Lives cat food, by the looks of it, is counting on your cat having 9 lives to survive this diet of colored corn, soybeans, and wheat, preserved with BHA as a potential carcinogen.
9 Lives cat food is one of the worst foods we've reviewed.
Where to buy 9 Lives cat food
Not that you would, but 9 Lives is available to buy on Amazon 👈 By the way, we get a small commission if you buy anything on Amazon, so if the 9 Lives cat food review has helped you out then please use that link to go and buy something else. I highly recommend getting your cat a water fountain (one of the best ways to get clean essential water into your cat 😉).
Ingredients
The ingredients of 9 Lives cat food (Daily Essentials) in ALL CAPS:
WHOLE GROUND CORN, CHICKEN BY-PRODUCT MEAL, SOYBEAN MEAL, CORN GLUTEN MEAL, BEEF FAT (PRESERVED WITH MIXED TOCOPHEROLS), WHOLE WHEAT, MEAT & BONE MEAL, ANIMAL DIGEST, SALMON MEAL, PHOSPHORIC ACID, SALT, TITANIUM DIOXIDE (COLOR), CHOLINE CHLORIDE, VITAMINS (VITAMIN E SUPPLEMENT, NIACIN, VITAMIN A SUPPLEMENT, THIAMINE MONONITRATE, RIBOFLAVIN SUPPLEMENT, D-CALCIUM PANTOTHENATE, PYRIDOXINE HYDROCHLORIDE, VITAMIN B12 SUPPLEMENT, MENADIONE SODIUM BISULFITE COMPLEX (SOURCE OF VITAMIN K ACTIVITY), VITAMIN D3 SUPPLEMENT, FOLIC ACID, BIOTIN), MINERALS (FERROUS SULFATE, ZINC OXIDE, MANGANOUS OXIDE, COPPER SULFATE, CALCIUM IODATE, SODIUM SELENITE), RED 40, TAURINE, YELLOW 5, YELLOW 6, LACTIC ACID, BHA (USED AS A PRESERVATIVE), BLUE 1, BLUE 2, ROSEMARY EXTRACT
Guaranteed Analysis
The guaranteed analysis of 9 Lives cat food (Daily Essentials):
We hope this 9 Lives cat food review has been informative. If it has then please share this page and website with others, especially in social media groups with a decent reach. Our cats deserve better nutrition. Thank you.
9 Lives cat food review
Corn, soybeans, wheat, food colorings, dubious preservatives, not enough fat, not enough meat. To summarise our 9 lives cat food review in one word: terrible.
CONS
Corn
More corn
Soybeans
Wheat
Food colors
BHA (considered carcinogenic)