Wysong cat food review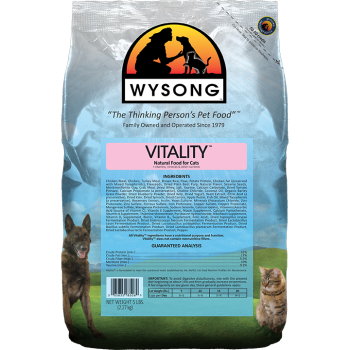 Formulated with your cat in mind (not profit)
Meat-based
All ingredients well considered
Wysong cat food has been around for three decades with decent results, and the company show an emphasis on putting the health of your pet before profit. That's in stark contrast to most pet food companies who are clearly more about profit than your pet.
In our Wysong cat food review we'll take a look at the Vitality formula which is the most popular in the cat food range. It's a good base diet for your cat, but if you want better then Wysong cater for that too with their Optimize and Pure Meat products.
There's nothing stopping you feeding Vitality as a base diet and mixing in one of the more premium ranges as you see fit (or as your budget allows).
Wysong Vitality cat food review
What the marketing says
On every bag of Wysong pet food they state "The thinking person's pet food". The reason for that is they want you to think about what you're actually feeding your cat, not what the marketing says. That's great, as that's exactly the purpose of this website – to tell you what the ingredients and analysis really say compared to the marketing.
The packaging is refreshing in it's simplicity. There are no pictures of succulent chicken breast and green veggies like there are with other brands made mostly of cereal by-products for carnivorous cats. They even put the ingredients and guaranteed analysis on the front of the bag, not hidden on the back with reams of small print.
Wysong is looking good and honest so far, so let's take a look at the ingredients and see what they say.
What the label really says
The guaranteed analysis of a cat food gives us a good idea of which ingredients are significant and which aren't. I'm happy to say Wysong Vitality cat food has a fantastic 42% protein and 17% fat, and looking at the ingredients it seems these are from the right ingredients – a combination of chicken and turkey, and chicken fat. This is much better than well known vet-endorsed brands which use corn/maize to ramp up protein (corn for carnivores 🤦‍♂️)
I estimate around 23% carbohydrates which is great to see, especially as cats have little requirement for carbs. It also assures us the bulk of Wysong Vitality cat food is chicken and turkey – the right stuff. Peas and potato protein as the 5th and 6th ingredients will also contribute a small amount to the protein, but better protein than carbs.
All dry cat foods contain starch (oh, except the wonderful Wysong Epigen Starch Free formula!), and starch will either be grain or something like potato. There's bad choices, like cereal by-products, or good choices. Wysong have opted for a small amount of brown rice as one of the better, more digestible grains.
What really shows Wysong Vitality to be a decent cat food is all the well thought out minor inclusions in the formula. We find flaxseed for heart health, skin, and coat, as well as coconut oil and fish oil with similar benefits. There's a range of dried vegetable and fruits, pre and probiotics, barley grass, and montmorillonite clay as a natural alternative to common chemical preservatives/antioxidants.
All in all it's a very well considered, high quality cat food!
Should I feed my dog Wysong Vitality to my cat?
Wysong Vitality is great base diet for your cat. If you want to boost nutrition even more, then make sure you try their "Pure Meats" product as a supplement or treat, or the fantastic "Optimize" which can also be used as a supplement or even a complete meal.
Where to buy Wysong cat food?
The best place to buy Wysong cat food is straight from the source, cutting out any middle men. We have a couple of offer links to, so make sure you try one of these:
Frequently Asked Questions
Is Wysong cat food suitable for kittens?
Yes, Wysong cat food is suitable for kittens.
Ingredients
Ingredients of Wysong dry cat food (Vitality formula):
Chicken Meal, Chicken, Turkey Meal, Brown Rice, Peas, Potato Protein, Chicken Fat (preserved with Mixed Tocopherols), Flaxseeds, Dried Plain Beet Pulp, Natural Flavor, Sesame Seeds, Montmorillonite Clay, Crab Meal, Dried Whey Protein Concentrate, Salt, Taurine, Calcium Carbonate, Dried Tomato Pomace, Calcium Propionate (a preservative), Choline Chloride, Coconut Oil, Organic Barley Grass Powder, Dried Blueberry Powder, Dried Kelp, Dried Yogurt, Yeast Extract, Citric Acid (a preservative), Dried Kale, Dried Spinach, Dried Carrots, Apple Fiber, Fish Oil, Mixed Tocopherols (a preservative), Rosemary Extract, Inulin, Yeast Culture, Minerals (Potassium Chloride, Zinc Proteinate, Zinc Sulfate, Ferrous Sulfate, Iron Proteinate, Copper Sulfate, Copper Proteinate, Manganese Sulfate, Manganese Proteinate, Sodium Selenite, Calcium Iodate), Vitamins (Ascorbic Acid [source of Vitamin C], Vitamin E Supplement, Niacin Supplement, Calcium Pantothenate, Vitamin A Supplement, Thiamine Mononitrate, Pyridoxine Hydrochloride, Riboflavin Supplement, Vitamin D3 Supplement, Biotin, Vitamin B12 Supplement, Folic Acid), Dried Aspergillus oryzae Fermentation Extract, Dried Enterococcus faecium Fermentation Product, Dried Lactobacillus casei Fermentation Product, Dried Lactobacillus acidophilus Fermentation Product, Dried Bacillus subtilis Fermentation Extract, Dried Lactobacillus plantarum Fermentation Product, Dried Lactobacillus lactis Fermentation Product, Pepper.
Guaranteed Analysis
Guaranteed analysis of Wysong dry cat food (Vitality formula):
If you've enjoyed our Wysong cat food review please say so in the comments, or share with others. Thank you!
Wysong cat food review
A really good dry cat food and excellent affordable base diet. If you want to boost your cat's nutrition then supplement with Wysong Optimize or Pure Meats.
PROS
Formulated with your cat in mind (not profit)
Meat-based
All ingredients well considered