Meow Mix Cat Food Review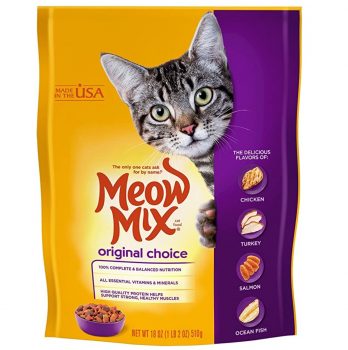 Meow Mix cat food is a classic case of deceiving marketing. It's mostly corn (and soybeans) for a carnivorous cat. How can that make sense?
In this Meow Mix cat food review I'll give you an insight into what's really going on with this very popular very well marketed product.
Meow Mix cat food review – Original Choice Dry Formula
What the marketing says
According to the bag, Meow Mix is "the only one cats ask for by name. ®". I don't know about you, but I didn't realize cats could talk 🤔
We find some beautiful graphics of chicken, turkey, salmon, and ocean fish, but these are preceded by the words "flavors of". In labelling terms this means these ingredients don't need to be significant in the food, and you'll find out when we look at the ingredients how insignificant they actually are.
The last point I'll mention about the packaging is the picture of vibrantly-colored kibble. This is often a warning sign, as premium products focus on the ingredients, not the color. The only reason color is added to cat food is to make you think it's enticing, but we all know how bad food colorings are, don't we?
What the ingredients really say
It's laughable that the main ingredient doesn't feature whatsoever on the front of the bag, or the recipe name (in this case we'll look at Original Choice). In fact it's not on the front of the bag anywhere.
Does it surprise you the first ingredient in a diet for meat-eating cats is…. ground yellow corn!?
If that doesn't surprise you enough, the second ingredient is also corn – the controversial corn gluten meal.
So basically, corn and more corn!
Ingredients on a cat food are listed in order of significance, so it's very likely the majority of Meow Mix cat food is just corn.
When we get to the third ingredient, thankfully chicken by-product meal, in this sinking ship of a cat food, it feels too little too late. How much of the 31% protein in the food comes from corn, and how much comes from readily-digestible meat protein? Not much I imagine.
The fourth ingredient doesn't improve matters, and is probably in the same amount as the chicken. This turns out to be soybeans. Again, not what you would expect in a food for a carnivore.
So why is all this corn and soybean in Meow Mix? The answer is simple – these are very very cheap ingredients. They've put profit well and truly before the health of your cat.
Meow Mix cat food is artificially-colored corn and soybeans with some token meat content, bagged up in glamorous and deceiving packaging.
So what about all that meat plastered on the front of the bag? We've only covered chicken so far! Sadly the turkey, salmon, and ocean fish are way down the ingredients after calcium carbonate as a calcium additive (which a cat would normally get from the bones of prey). Calcium is listed on the guaranteed analysis at 1%, so I'll leave you to make an educated guess how much turkey, salmon, and ocean fish there is in Meow Mix.
Should I feed my cat Meow Mix?
If you ever needed proof that a cute advertising jingle (meow, meow, meow, meow) and a catchy slogan (Cats ask for it by name!) doesn't mean anything towards the quality of the food, this would be your case study. It's pretty much awful, but people report their cats do indeed love it. However, I look at it as akin to feeding your kid hot dogs every day. Sure you can, and they may love it, but does that justify it?
If you haven't gathered through the course of the Meow Mix cat food review, I personally wouldn't recommend this corn product for carnivorous cats. Simple as that.
Also, what's the deal with all the added colors? That has to be one of the most pointless additions to a cat food, but it's part of what appeals to owners of Meow Mix. Hey, it's vibrant!! That means it's good?? Actually no, it doesn't.
I'll let you decide if this cat food is for you, but I hope our Meow Mix cat food review has given you enough information to make a wise decision!
Where to buy Meow Mix cat food


For the best prices why not order on Amazon.com?
Ingredients
Ingredients of Meow Mix cat food (Original Choice):
Ground Yellow Corn, Corn Gluten Meal, Chicken By-Product Meal, Soybean Meal, Beef Tallow (Preserved with Mixed Tocopherols), Animal Digest, Calcium Carbonate, Turkey By-Product Meal, Salmon Meal, Ocean Fish Meal, Phosphoric Acid, Choline Chloride, Salt, Potassium Chloride, Titanium Dioxide (Color), Vitamins [Vitamin E Supplement, Niacin Supplement, Vitamin A Supplement, D-Calcium Pantothenate, Thiamine Mononitrate (Source of Vitamin B1), Riboflavin Supplement (Source of Vitamin B2), Pyridoxine Hydrochloride (Source of Vitamin B6), Menadione Sodium Bisulfite Complex (Source of Vitamin K Activity), Vitamin D3 Supplement, Folic Acid, Biotin, Vitamin B12 Supplement], Minerals [Ferrous Sulfate (Source of Iron), Zinc Oxide, Manganous Oxide, Copper Sulfate, Calcium Iodate, Sodium Selenite], Taurine, Yellow 6, Yellow 5, Red 40, Blue 2, Rosemary Extract.
Guaranteed analysis
Guaranteed analysis of Meow Mix cat food (Original Choice):
I hope our Meow Mix cat food review has been informative. If it has, please share this with others in your local cat communities. Corn isn't great for carnivores. Thank you.
Meow Mix cat food review
Since when was artificially-colored corn and soybeans species-appropriate for a carnivorous cat? If you've read the Meow Mix cat food review in full I would hope you're put off from buying this brand.
CONS
Corn first ingredient.
Corn second ingredient.
Meat isn't very significant.
Artificial colors.
Soybeans.