Friskies Cat Food Review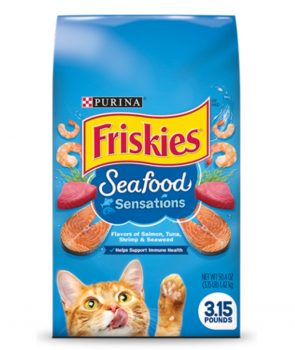 When I first created this website in 2007 I created a spreadsheet which rated cat foods based on ingredients, and Friskies cat food came in dead last.
Skip to this updated Friskies cat food review (2022) and it's sad to see this terrible excuse for a cat food still being fed to so many poor cats.
You can also check out the Meow Mix cat food review which is basically the same cr*p from the same company in a different bag.
Friskies cat food review – Seafood Sensations
What the marketing says
We'll take a look at Friskies Seafood Sensations for the sake of this review, but all recipes are pretty much the same ingredients in various packaging.
Obviously the marketing makes Friskies cat food look good, and the ads are always enticing. The reason you see so many ads for Friskies is the company who makes it, Nestle, has one of the largest budgets for marketing in the pet food space.
The reason they have so much money for marketing is this – they're masters at selling cheaply made products to hordes of clueless consumers.
Please don't be offended if you're one of those clueless consumers, as you've come to the right place to learn a little about how these companies mislead us at the expense of our cat's health.
The main ingredient in Friskies cat foods is corn. The second ingredient is more corn. Yet they're allowed to stick "Seafood Sensations" in big prominent letters on the front of the bag as it's a big loophole in product labelling regulations.
You'll see on the "Seafood Sensations" packaging the statement "Flavors of Salmon, Tuna, Shrimp & Seaweed". This sounds delightful, but the key word here is "flavors".
"Flavors" on a cat food label merely means those ingredients need to feature in the recipe. They don't need to be in a significant amount. They can be under 1% for all it matters.
Deceiving, isn't it? You don't see "Corn for Cats" plastered over the front of the bag. In fact you don't see the word corn at all, even though it's the main ingredient, and the second main ingredient.
What the ingredients really say
We've already covered the two main ingredients of Friskies cat food to be corn and more corn (in this case ground yellow corn and corn gluten meal). Not exactly the kind of ingredients you'd expect in a diet for carnivores, but Friskies is designed to make a profit rather than offer your cat optimum nutrition.
For all we know these two corn ingredients can be the majority of the recipe. After all, they don't tell you how much meat is actually in the product, do they?
The guaranteed analysis tells us Friskies cat food is 30% protein (yep, mostly from corn), and 11% fat. That's not very good.
Thankfully we find some meat in Friskies, in this case poultry by-product meal. What they mean by by-products is all the bits not needed for anything else, so likely won't be the succulent chicken breasts. By-product ingredients such as this tend to be the poorest quality they can get away with, because the poorest quality means the biggest profit.
Weren't we looking at "Seafood Sensations"? Is poultry a seafood? 🤷
All I can deduce from the labelling is the poultry by-products are at least 11% of the product as they're listed before animal fat (yep, they don't even tell you what animal!).
It's likely the poultry by-products are also in the same percentage as soybeans listed 4th. Soybeans for carnivores!?
So where is the salmon, tuna, shrimp, and seaweed as advertised on the bag? Well these happen to be after salt, usually sitting around 1%.
This is how they sell the same formula by different names, so don't be fooled into thinking the other recipes are any different. All recipes are basically corn, soybeans, some meat, and ambiguous animal fat. All of them.
Get the picture?
The worst thing about Friskies cat food is food colorings. Didn't you hear food colorings were bad? Besides, your cat doesn't care what color their meat is.
Sorry, corn, not meat.
That concludes our Friskies cat food review. I have nothing positive to say about this profit-machine fallacy of a carnivorous cat diet from confectionary company Nestle.
Oh, and don't trust 5 star reviews from countless consumers who really have no idea what they're feeding their cat. Generally people who buy Friskies cat food have no idea what they're buying, so when Amazon asks them to review the product they tend to give it an equally clueless 5 stars.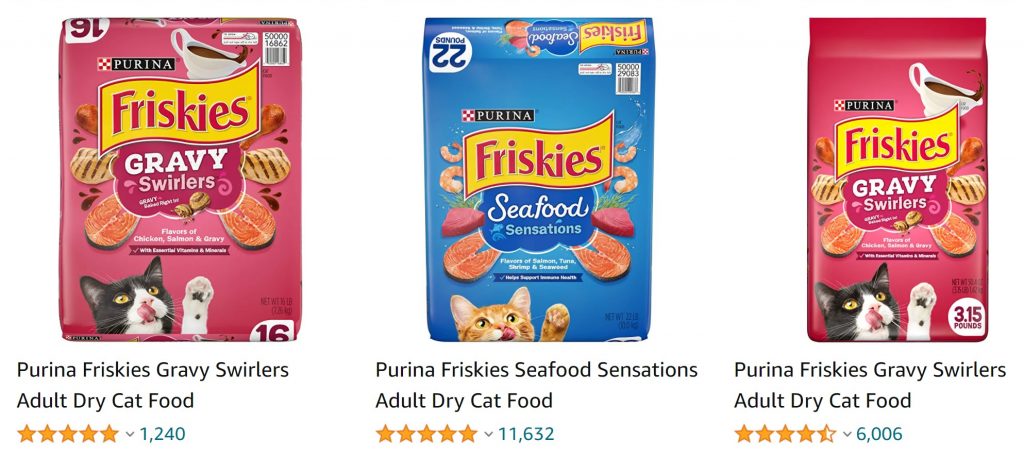 Didn't a leaked document from Nestle in 2021 state most of their products were unhealthy?
Should I feed Friskies to my cat?
Hopefully if you've got this far in the Friskies cat food review that you've already made up your mind. I definitely wouldn't feed Friskies to my cat. No sir.
I get price is a factor for many, and Friskies cat food is attractive because it's very very cheap. But it's cheap for a very good reason. Corn and food colorings are cheap. But you may end up paying the price in vets bills in a few years time.
What about a Friskies Indoor cat review? Don't get me started, it's even worse.
Where to buy Friskies cat food
Not that you would, but if you've learned something from this Friskies cat food review then thank me by buying a better cat food through one of the links below (I'll get a small little man's commission).


For the best prices why not order on Amazon.com?
Ingredients
Ingredients of Friskies cat food (Seafood Sensations):
Ground yellow corn, corn gluten meal, poultry by-product meal, soybean meal, animal fat
preserved with mixed-tocopherols, liver flavor, meat and bone meal, ocean fish meal, phosphoric acid,
calcium carbonate, potassium chloride, salt, choline chloride, salmon meal, tuna meal, shrimp meal,
dehydrated seaweed meal, taurine, MINERALS (zinc sulfate, ferrous sulfate, manganese sulfate, copper
sulfate, calcium iodate, sodium selenite), VITAMINS [Vitamin E supplement, niacin (Vitamin B-3), Vitamin
A supplement, calcium pantothenate (Vitamin B-5), thiamine mononitrate (Vitamin B-1), riboflavin
supplement (Vitamin B-2), Vitamin B-12 supplement, pyridoxine hydrochloride (Vitamin B-6), folic acid
(Vitamin B-9), Vitamin D-3 supplement, biotin (Vitamin B-7), menadione sodium bisulfite complex (Vitamin
K)], Yellow 5, DL-Methionine, L-Tryptophan, Red 40, Blue 2.
Guaranteed analysis
Guaranteed analysis of Friskies cat food (Seafood Sensations):
I hope this Friskies cat food review has been informative. If it has, and if it's been a warning to you, then please share this review with others in your cat communities.
Friskies cat food review
Corn, corn, and soybeans, with food colors. If that doesn't summarise this Friskies cat food review then I don't know what does. No wonder so many cats gets sick.
CONS
Corn
More corn
Soybeans
Food colorings