Tiki Cat Born Carnivore Cat Food Review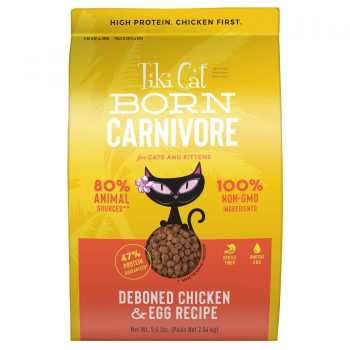 Chicken
Chicken
Chicken
Egg
Natural preservatives
Great ingredients all round
Tiki Cat has one of the coolest packaging designs, but you're not here to read about that. You're here to find out if it's any good or not! For our Tiki Cat Born Carnivore cat food review we'll dive in to the Deboned Chicken & Egg Recipe to find out if it's good… or not good… for your cat!
Oh, alright then, I'll start by saying yes, it's good! But read more to find out why…
Tiki Cat Born Carnivore Cat Food Review
What the marketing says
On the Tiki Pets website for Tiki Cat Born Carnivore they say cats are natural carnivores which is totally true, and definitely the angle they should take when formulating a dry cat food. For the Deboned Chicken & Egg Formula (with others being similar) they claim an incredible 46% protein with no processed plant proteins like corn gluten. This is great stuff, and you'd be surprised how many cat foods are filled with rubbish like corn gluten meal (CGM).
This cat food is also suitable for kittens, and the reason that's the case is because the formula is good enough nutritionally to cater for the needs of a growing kitten.
So the marketing says it's good, but what does the labelling really tell us about Tiki Cat?
What the label really says
The first ingredient is deboned chicken, but usually the first ingredient isn't the main ingredient. In this case it's backed up by protein-dense chicken meal, and if that wasn't enough chicken then the third ingredient is dehydrated chicken! That assures us Tiki Cat is really focused on meat, and not harmful filler grains. Awesome.
The fourth ingredient is dried egg product, another protein-rich and nutritious ingredient which will go a long way to boost the health of your cat.
The fifth ingredient, and likely the last of the "main ingredients" before we delve into the small percentage stuff, is tapioca. Although this does very little for a cat nutritionally, all kibbles need something to bind them. Otherwise the kibble would fall apart. Tapioca is considered relatively harmless, and far better than cheap and nasty cereal grains or potato skins used in other cat foods.
There's lots to rave about with the rest of the ingredients, with many telltale signs they've put our cats first. Salmon oil is a great inclusion, rich in omega fatty acids to support heart health and glossy coat, as is flaxseed. It's preserved naturally with rosemary extract rather than harmful chemicals, and we even find they've added a small amount of ascorbic acid (or vitamin C in it's purest form to you and me).
Scroll down to find where to buy Tiki Cat Born Carnivore, and a little further for the summary. We hope our Tiki Cat cat food review has been of service. If it has, let us know in the comments below! Thanks!
Where to buy Tiki Cat Born Carnivore


For the best prices why not order on Amazon.com?
Review summary
If 46% protein isn't astounding enough, Tiki Pets have gone all out in formulating this dry cat food for the health and nutrition benefit of your carnivorous cat. They have dumped in a load of nasty rubbish to keep costs down and their markup high, like many more commercial brands.
All in all it's very good, worthy of feeding your cat, and gets a high rating from us!
If our dog and cat food reviews help, then help us by telling others. The price compare and adverts are our only source of revenue to keep the website running. Thank you 🙂
Ingredients
The ingredients of Tiki Cat Born Carnivore dry cat food (as of January 2021) is as follows:
Deboned chicken, chicken meal, dehydrated chicken, dried egg product, tapioca, natural chicken flavor, ground whole flaxseed, chickpeas, peas, chicken fat (preserved with mixed tocopherols and citric acid), brewers dried yeast, calcium sulfate, choline chloride, inulin (prebiotic), salmon oil, pumpkin, taurine, ferrous sulfate, zinc sulfate, vitamin E supplement, niacin supplement (vitamin B3), copper sulfate, vitamin A supplement, manganese sulfate, thiamine mononitrate (vitamin B1), d-calcium pantothenate, pyridoxine hydrochloride (vitamin B6), biotin, riboflavin supplement (vitamin B2), vitamin B12 supplement, vitamin D3 supplement, calcium iodate, folic acid, sodium selenite, rosemary extract, ascorbic acid (preservative), citric acid, tannic acid.
Guaranteed analysis
The guaranteed analysis of Tiki Cat Born Carnivore dry cat food (as of January 2021) is as follows:
Tiki Cat is formulated for carnivores! Just like it should be!
PROS
Chicken
Chicken
Chicken
Egg
Natural preservatives
Great ingredients all round