Kit & Kaboodle Cat Food Review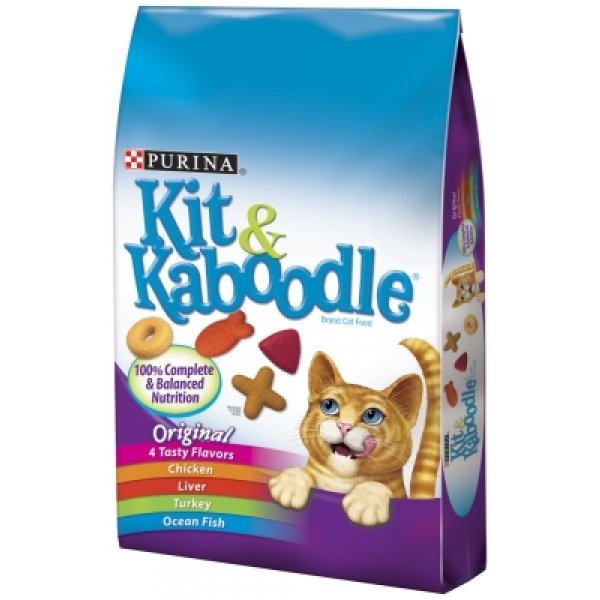 Purina is a Nestle brand. You know, the chocolate bar company. If you were to assume Kit & Kaboodle cat food is any better than a chocolate bar, then make sure you read this review in full.
It's appalling.
In our Kit & Kaboodle cat food review you'll find out exactly why…
Kit & Kaboodle cat food review – Original formula
What the marketing says
You'll find a bag of Kit & Kaboodle cat food to be one of the most colorful on the shelves. The bag features a cartoon cat, lots of color, and examples of the four different colored kibble pieces within the bag.
For the Original formula they state, also very colorfully, "4 Tasty Flavors" – with a suggestion that these are Chicken, Liver, Turkey, and Ocean Fish.
Please don't be fooled into thinking each kibble shape is one of the above. This is simply not the case. In fact they're probably all the same but with a different food dye.
What the ingredients really say
The ingredients say a totally different story.
Corn, more corn, and soybean make up the main ingredients. Can you believe it? For meat-eating cats!?
Why aren't these ingredients listed on the front of the bag?
The turkey and ocean fish are listed on the ingredients after salt. SALT IS 1%!!! It's absolutely crazy how they can list these ingredients on the front of the bag when they're almost non-existent on the ingredients list.
The liver we find on the front of the bag isn't significant either, and it's not even liver – it's liver flavor.
This food is basically corn and soybeans with food colorings to trick you as a clueless consumer into thinking this food is good for cats.
You've heard about food colors being bad, right? In Kit & Kaboodle cat food we find RED 40, YELLOW 5, and BLUE 2.
We find phosphoric acid in the food, something we find in high carbohydrate or rubbishy foods which aren't using ingredients appropriate for cats. It's a way of getting the pH back to a suitable range so as not to harm your cat, but you're still feeding colored-corn and soybeans to a carnivore.
It would be wrong for me to ignore the meat content in the food. Thankfully there is some, mostly in the form of meat and bone meal, ambiguous animal fat (what animal?), and chicken by-product meal, but my guess is this is very poor quality meat. Probably the leftovers thrown out the back of the factory down the road which gives you prime cuts for your dinner.
If you're still thinking you should feed Kit & Kaboodle to your cat then I've failed in this review. I hope you don't.
When I studied to be a pet nutritionist the first lesson taught me everything I needed to know about what a cat should eat, and it definitely wasn't corn and soybeans colored with food dye.
Should I feed Kit & Kaboodle to my cat?
If you have a very tight budget or have a multiple cat household you may view Kit & Kaboodle cat food as the only option. If this is the case just keep in mind this is not a product formulated appropriately for a carnivorous cat (or kitten). If this is your only option, do your best to feed your cat as many meat off-cuts and scraps from your meals as possible.
Is Kit & Kaboodle suitable for kittens?
Honestly, speaking as a pet nutritionist, corn and soybeans with artificial colorings are not the best diet for the vital growth phase of your kitten.
Where to buy Kit & Kaboodle?
Kit & Kaboodle is available from Amazon using the link below, but if you go to Amazon, buy something else!


For the best prices why not order on Amazon.com?
Ingredients
Ingredients of Kit & Kaboodle (Original formula):
Ground yellow corn, corn gluten meal, soybean meal, meat and bone meal, animal fat
preserved with mixed-tocopherols, chicken by-product meal, animal liver flavor, phosphoric acid, salt,
choline chloride, turkey by-product meal, ocean fish meal, taurine, calcium carbonate, potassium chloride,
MINERALS [zinc sulfate, ferrous sulfate, manganese sulfate, copper sulfate, calcium iodate, sodium
selenite], VITAMINS [Vitamin E supplement, niacin (Vitamin B-3), Vitamin A supplement, calcium
pantothenate (Vitamin B-5), thiamine mononitrate (Vitamin B-1), Vitamin B-12 supplement, riboflavin
supplement (Vitamin B-2), pyridoxine hydrochloride (Vitamin B-6), Vitamin D-3 supplement, folic acid
(Vitamin B-9), menadione sodium bisulfite complex (Vitamin K), biotin (Vitamin B-7)], DL-Methionine, Red
40, Yellow 5, Blue 2.
Guaranteed analysis
The guaranteed analysis of Kit & Kaboodle cat food (Original formula):
Kit & Kaboodle Cat Food Review
Cats are carnivores and require a meat-based diet. Kit & Kaboodle is corn, more corn, and soybeans, with food dye to make it look appealing to you as a clueless consumer.
CONS
Absolute rubbish
Not species appropriate
Food colorings