Fromm Cat Food Review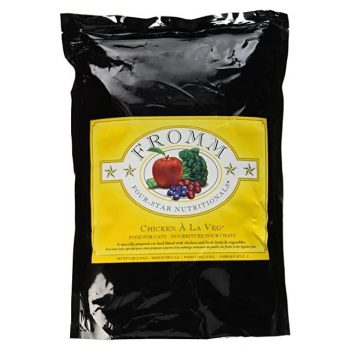 Decent meat ingredients
No nasty ingredients
Some starch ingredients but not bad inclusions
Fromm cat food has a loyal following, and for good reason – it's better than many of the rubbish excuses for cat foods you can buy in the stores.
They market the food as four star and I'm not sure if that's 4 out of 4 or 4 out of 5, but the latter would be more what I consider the ballpark.
In this Fromm cat food review we'll take a closer look at the Chicken À La Veg dry recipe, but will also mention Fromm Gold and canned foods as well.
Fromm cat food review – Chicken À La Veg
What the marketing says
The Fromm company has a long and interesting history, originating mostly with silver foxes until the release of their first commercial dry dog food (pictured) in 1949.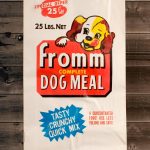 That means at the time of writing (2022) Fromm have been selling pet foods for 73 years!
That can mean a couple of things. It means they've had 73 years perfecting the perfect food for your cats, or it could mean 73 years perfecting the perfect product for product.
Or perhaps some of both.
It has to be said all Fromm cat foods come with a quirky recipe name, the likes of which would suit a French restaurant. That's just marketing though.
Let's take a look at the ingredients of Fromm Chicken À La Veg dry cat food and find out the real story.
What the ingredients really say
Most cat foods only have a two or three ingredients. Usually these come before fat, and we find with Fromm Chicken À La Veg there are five. We can assume most of the recipe is made from these ingredients.
These are chicken, chicken meal, pearled barley, chicken broth, and white rice. I'm going to count the sweet potato as the 7th ingredient after fat as well, as this will likely be a significant ingredient.
It's great to see a decent amount of chicken in the recipe, and it definitely looks like a decent amount of animal ingredients in the food when we include the chicken fat as well. It's also good to see 19% fat in the food which is very respectable, and 32% protein is average for a cat food.
But from the other side of things we also have two grains (barley and rice) as well as sweet potato, and given cats are essential meat-eating carnivores it is questionable how much benefit these ingredients will offer your cat.
At least these are better grain inclusions than cereals/wheat which I consider the most problematic, and sweet potato offers more nutrition and is lower GI than regular potatoes. I feel that the "four-star" labelling is on the mark with this Fromm recipe, as five stars would definitely favor more meat and less carbohydrates/starch.
The smaller ingredient inclusions are all above the bar with no ominous nasties. They're also a mixed bag.
It's great to see chicken liver as an excellent highly-nutritious organ very beneficial to your cat, and salmon oil as a rich source of omega fatty acids to support organ health, wellbeing, skin and coat. Flaxseed is another decent inclusion in this respect, and these are signs of a good quality cat food.
Dried egg product is a good inclusion although not as good as whole eggs you may find in real top-end cat foods like Orijen.
Peas, pea protein, and potato aren't bad inclusions but as with some of the main ingredients aren't overly species-appropriate for a cat. At least they're in moderation.
It's nice to see probiotics included which will aid digestion, but it would be nice if Fromm told us what this actually was.
Last but not least, there's a small range of fruits and vegetables which should be beneficial and somewhat mimic the gut content of prey.
Should I feed my cat Fromm?
Fromm cat food is good, and if you're already feeding Fromm to your cat then you have no reason to feel guilty. It's a good mix of quality and affordability, and although there are a handful of more meat-based cat foods (for a higher price) there are dozens that are far worse.
I would prefer to see less grains and potato in a diet for carnivorous cats, but if that bothers you then you could use Fromm as a base diet and supplement with fresh meats, organs, and some meaty bones or chicken necks to chew on.
Fromm pet foods have a decent reputation, a loyal following, and a good reputable history. That should also offer assurances.
Where to buy Fromm cat food?


For the best prices why not order on Amazon.com?
What about Fromm Gold?
There's a few formulas in the Fromm Gold range – Healthy Weight Gold, Kitten Gold, Adult Gold. Obviously these sound more premium than the Four-Star range, but looking at the ingredients they aren't much different.
I find the healthy weight formula a bit of a fallacy as it contains more carbohydrates, and cats as carnivores should naturally retain a healthy weight on lean meats. It does however contain L-Carnitine which helps to aid digestion, and I imagine this is the key driver for the Healthy Weight formula.
Given the similarities between the Four-Star and Gold formulas it's much of a muchness, and it's worth supplementing either dry food with some wet or fresh foods.
What about Fromm canned food?
Like with the dry foods, the Fromm wet foods also have swanky gourmet-style names. "CATaSTRONI STEW" is one such example, and it's definitely cute.
The recipes are decent, but inline with the dry foods we find a mix of meat ingredients (great for a cat) and other ingredients (not as great for a cat).
For the quirky-named stew recipe mentioned earlier we find the top six ingredients to be a 50:50 mix of animal and non-animal ingredients – chicken, chicken broth, turkey broth, chickpea pasta, sweet potatoes, and peas. Given they don't tell us percentages it's possible they're all equal.
Like with the dry food we find salmon oil and flaxseed as quality inclusions for health, wellbeing, and a glossy coat, and the inherent moisture content of a wet food will always benefit your cat.
To offer a summary similar to the Fromm dry cat foods there is no reason to feel guilty if you feed these wet foods to your cat. There are far far worse, but also a handful of more meat-based (more costly) alternatives.
That concludes our Fromm cat food review. I hope you enjoyed it, found it useful, and if so please share it with others! 🙏
Ingredients
Ingredients of Fromm cat food (Chicken À La Veg):
Chicken, Chicken Meal, Pearled Barley, Chicken Broth, White Rice, Chicken Fat, Sweet Potatoes, Dried Egg Product, Peas, Chicken Liver, Dried Tomato Pomace, Pea Protein, Potatoes, Salmon Oil, Flaxseed, Natural Flavor, DL-Methionine, Carrots, Apples, Broccoli, Celery, Potassium Chloride, Vitamins, Salt, Chicory Root Extract, Minerals, Cranberries, Yucca Schidigera Extract, Sorbic Acid (Preservative), Taurine, Blueberries, Sodium Selenite, Probiotics.
Guaranteed analysis
Guaranteed analysis of Fromm cat food (Chicken À La Veg):
I have a favor to ask! If this Fromm cat food review has helped you out, then please help me out by sharing the review with others. Social media cat groups are great as really helps to get the word out. Thank you!
PROS
Decent meat ingredients
No nasty ingredients
Some starch ingredients but not bad inclusions
CONS
Would be better to see more meat, but this would also mean a higher price