Kirkland Signature Cat Food Review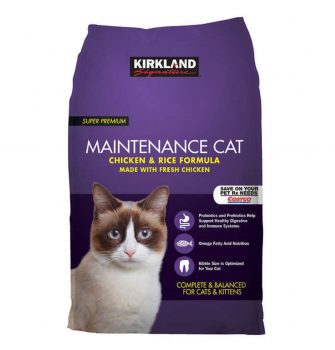 Decent amount of chicken
Good ingredients
Chelated minerals
Reputable company
Kirkland Signature is a brand sold at CostCo (and it seems Amazon as well).
What many people don't realise is Kirkland cat food is comparable to Taste of the Wild, because it's made by the same manufacture – that's a good thing!
For this review of the CostCo brand of cat food, we'll take a look at the Chicken & Rice formula (labelled "Maintenance Cat"). This should give you a good starting point to figure out if Kirkland cat food is a good choice for you.
Kirkland Signatue cat food review – Original Choice Dry Formula
What the marketing says
The bag says "Super Premium", and if you've read other reviews you may already know by now these are meaningless marketing words. Pretty much all cat foods seem to be labelled premium these days, even the bad ones.
Other than that the marketing is refreshingly simple. The formula name matches the main ingredients which is a rarity, and there's only a few simple statements on the bag:
Probiotics and prebiotics to support digestive health and immune system.
Omega fatty acids.
Kibble size optimized for your cat.
These are all reasonable statements when we assess the ingredients, so that's good.
Kirkland Signature cat food is formulated for all life stages, which means it can be fed to kittens as well.
What the ingredients really say
There are four main ingredients in Kirkland Signature cat food (we're looking at the Chicken & Rice formula named as "Maintenance Cat"). As it says on the front of the bag, these are chicken and rice.
It's great to see some honesty here. Yesterday I reviewed Meow Mix and if you read that you'll see it's marketed as meaty but the reality is it's food-colored corn and soybeans!
Kirkland Signature is also sold in Europe, and given they list percentages of the main ingredients I can mention them here (I'm sure it's the same formula in the US).
The first two ingredients are chicken and chicken meal, listed on the European bag as 27% and 27% respectively. That's really good, and assures us there's a decent amount of chicken in the food. That's great for your cat.
It's nice to see brown rice and white rice to be less significant at 17% and 16%, with a slight emphasis on brown rice as the better of the two. Cats are carnivores and need a diet focused on meat which mains grains somewhat redundant, but rice is more digestible than something like wheat as a terrible option.
All kibbles contain some form of starch to bind it into a nugget. You'll find much more expensive cat foods (like Orijen for example) have a much better emphasis on meat and whole prey, but at a much higher cost.
Kirkland Signature cat food has a guaranteed analysis of 30% protein and 20% fat. This is very respectable, and from this I would estimate relatively low carbohydrates of 32% (so around a third).
Even the confusingly-named ingredients further down the list show Kirkland Signature cat food to be a decent quality. Chicken fat is good to see rather than an ambiguous "animal fat". We find flaxseed included for heart health and glossy skin & coat.
Lactobacillus acidophilus fermentation product may sound completely alien, but it's a probiotic to support gut health and digestion, as is bifidobacterium animalis fermentation product.
Another nice thing about this cat food is it doesn't contain any problematic ingredients which cause intolerances. No wheat, no excessive grains, and it seems no artificial colors or chemicals.
It's nice to see such well-rounded ingredients in Kirkland Signature cat food.
So, let's summarise…
Should I feed my cat Kirkland Signature?
If you shop at CostCo then this is a decent cat food to go with. There are better, but better at a higher price. There are also a lot of cat foods which are much much worse.
Kirkland Signature cat food comes from the same manufacturer (Diamond) who make Taste of the Wild, so that offers reassurance that you're buying a cat food from a reputable company with products sold worldwide.
To summarise the Kirkland Signature cat food review. If you're looking for a decent base diet for your cat which doesn't have an extortionate price tag, then Kirkland Signature is a good choice.
What about Kirkland Signature Nature's Domain?
So far we've focused on the Chicken & Rice "Maintenance Cat" formula which is the basic option. It's worth noting there's also a more premium (and slightly more expensive) grain-free option known as Kirkland Signature Nature's Domain.
This is the slightly better formula and worth going for if you can afford the extra. More $ is obviously going to offer you a better product.
Where to buy Kirkland Signature cat food
Kirkland Signature cat food formulas are available at CostCo, and also available online through Amazon – delivered to your door!


For the best prices why not order on Amazon.com?
Ingredients
Ingredients of Kirkland Signature cat food (Maintenance Cat, Chicken & Rice Formula):
Chicken, Chicken Meal, Whole Grain Brown Rice, Ground White Rice, Chicken Fat (Preserved With Mixed Tocopherols), Natural Chicken Flavor, Flaxseed, Sodium Bisulfate, Potassium Chloride, Choline Chloride, Taurine, Dried Chicory Root, Dried Lactobacillus Acidophilus Fermentation Product, Dried Bifidobacterium Animalis Fermentation Product, Zinc Proteinate, Vitamin E Supplement, Niacin, Manganese Proteinate, Copper Proteinate, Zinc Sulfate, Manganese Sulfate, Copper Sulfate, Thiamine Mononitrate, Vitamin A Supplement, Biotin, Potassium Iodide, Calcium Pantothenate, Riboflavin, Pyridoxine Hydrochloride (Vitamin B6), Vitamin B12 Supplement, Manganous Oxide, Sodium Selenite, Vitamin D Supplement, Folic Acid.
Guaranteed analysis
Guaranteed analysis of Kirkland Signature cat food (Maintenance Cat, Chicken & Rice Formula):
I hope our Kirkland Signature cat food review has been useful, especially if CostCo is your store of choice. Pet Food Ratings is a free resource and we depend on you to share information with other cat owners! Thanks!
Kirkland cat food review
Kirkland Signature cat food is made by the same company who make the premium brand Taste of the Wild. That makes it a quality cat food for an affordable CostCo price!
PROS
Decent amount of chicken
Good ingredients
Chelated minerals
Reputable company