Nulo FreeStyle Freeze Dried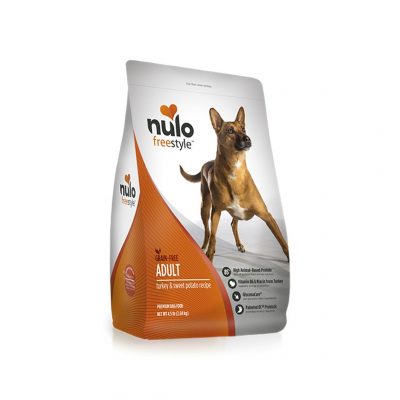 Lots of meat & organs
High meat content
No fillers
Freeze dried raw with the convenience of retained nutrients and a long shelf life
Freeze dried raw diets are great. They're a hassle free way to feed a balanced raw diet without having to chop up bloody guts and organs. They have a fantastic shelf life, an excellent retention of nutrients, and all you have to do is add fresh water.
As a product they seem expensive, but to defend a product such as this they're also made from the right stuff. Many "premium" kibbles cost a huge amount when you consider they're made from cheap grains and even cheaper by-products of those grains which will likely harm your pet over time. At least this product is formulated with a natural canine diet in mind, so even if you use this to supplement a cheaper kibble diet, it's a very good thing.
The first four ingredients are the same thing – Turkey (including organs which is where most of the nutrients are). They state 80% of the product is from animal ingredients, which is great considering many kibbles can be 80% filler.
There isn't anything bad in the food. Probiotics are included. Natural preservatives rather than nasty chemicals. Fruits, veggies, vitamins, minerals, and salmon oil as a quality inclusion for omega fatty acids.
Foods such as this are well worth adding to a diet, and if it's expensive for you then use it as a topper or special dinner once every few days. It's also worth rotating with their other formulas which use various meat ingredients – variety is always good.
Ingredients:
Turkey, Turkey Necks, Turkey Heart, Turkey Liver, Cranberries, Apples, Sweet Potato, Broccoli, Carrots, Kale, Spinach, Parsley, Apple Cider Vinegar, Ground Flaxseed, Dried Kelp, Inulin, Salt, Dried Bacillus coagulans Fermentation Product, Potassium Chloride, Salmon Oil, Zinc Proteinate, Iron Proteinate, Mixed Tocopherols (natural preservative), Vitamin E Supplement, Copper Proteinate, Manganese Proteinate, Vitamin D3 Supplement.
PROS
Lots of meat & organs
High meat content
No fillers
Freeze dried raw with the convenience of retained nutrients and a long shelf life
CONS
Not much to mention, but freeze dried does cost more (for good reason)