Honest Kitchen Cat Food Review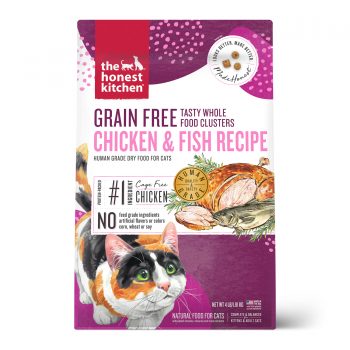 Significant meat content
Excellent ingredients throughout
Naturally preserved
Human grade ingredients
If you want to know if this is a good food for your cat, then yes it is!
If you want to know why, keep reading our Honest Kitchen cat food review…
Honest Kitchen cat food review (grain free)
What the marketing says
I like to assess the marketing of a cat food to see how honest the company is, and with a name like The Honest Kitchen you'd expect them to be honest! So often I find the marketing bares zero relation to what's actually in the product, and thankfully this isn't the case with this brand.
I found the following promise on the The Honest Kitchen website
, with some great points to talk about: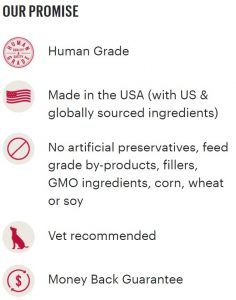 It's great to see human grade ingredients, which assures us of quality and no funny business. Pet grade ingredients fall foul of all manner of quality control issues, contaminants, and poor regulation.
It's also great to see no artificial preservatives being used (rosemary extract to be exact). Many brands use chemical preservatives and antioxidants, and historical evidence clearly shows why this is concerning.
Honest Kitchen don't use corn, wheat, or soy – these are ingredients you'll often find in well known and seemingly respected vet-endorsed brands. That's also a good thing given cats are obligate carnivores and don't need these "filler" ingredients!
The Honest Kitchen cat food is looking good so far, so let's take a look at the ingredients and see what they say.
What the ingredients really say
I've decided to take a look at the Honest Kitchen Chicken & Fish recipe as a benchmark for this review, but consider the others on par. If you decide to feed Honest Kitchen they it's well worth feeding a variety of recipes.
The first ingredient in the Chicken & Fish recipe for cats is what you would expect – chicken (we'll get to the fish part later). The recipe boasts 44.2% protein (dry matter) which is excellent for a cat, and really shows this recipe to be mostly chicken.
The fat content of 29.5% is also very respectable, and also looks to be from the chicken constituent. This guarantees us very few carbohydrates in Honest Kitchen cat food.
This is really good as cats have little need for carbohydrates. They're obligate carnivores!
It's well worth mentioning Honest Kitchen cat foods are dried rather than kibble. This offers a big difference in nutrition. Kibble is cooked at high temperatures (more than once for many ingredients) which inevitably destroys nutrients. With Honest Kitchen being gently dried rather than cooked it goes a long way in keeping vital nutrients intact and unharmed – big plus.
The high protein and fat in Honest Kitchen cat foods assures us very few carbs, which is fantastic. I strongly suspect the dreadful amount of carbohydrates in most cat foods are a main cause of numerous illnesses. Carbs turn to sugars, especially in a feline with a digestive system not designed to digest them.
Go on, take a look at one of those expensive vet-endorsed foods, and pay attention to how many carbohydrates they contain! It's crazy, and fundamentally wrong! I'm a qualified pet nutritionist, and these are absolute basics in feline nutrition!
Right then, onwards…
All ingredients after the chicken seem relatively minor. We find sweet potato and potato as the only carb ingredients. In minor amounts your cat will benefit from the vitamins, minerals, and also fibre of these inclusions.
Usually the minor ingredients show the true quality of a cat food, and I'm happy to offer a glowing report of the minor ingredients in Honest Kitchen cat foods – they're simply brilliant, and of wonderful benefit to your cat.
The minerals are chelated, which means they are much more readily absorbed by your cat, and much more beneficial. It's a tell tale sign of a quality product, formulated for the health of your cat before profit. Big tick.
We find a range of ingredients which are great for wellbeing, organ health, skin and coat. Flaxseed, eggs, and white fish are great to see, all being rich in omega 3 & 6.
A small point worth making is fish is a minor ingredient yet used in the name of the recipe – that's one truth of marketing!
It's fantastic to see chicken bone broth. It's such a wonderful ingredient and something we should definitely be feeding our cats. I actually make my own bone broth as it's really easy to do with a chicken, slow cooker, and a little bit of apple cider vinegar – well worth trying yourself no matter what cat food you feed 😉
If this review hasn't convinced you already to feed your cat Honest Kitchen, then I'll name drop some other great ingredients in this recipe. You'll already know the health benefits of many of these:
Spinach, pumpkin, cranberries, blueberries, barley grass, kelp, and turmeric.
In feline nutrition we know wild cats would get these minor nutrients from the gut content of prey, and all I can say about the above ingredients is this – it mimics the gut content of prey which had a supremely healthy diet!
Should I feed Honest Kitchen to my cat?
It's a resounding yes. This is a great cat food. The ingredients are great, it's dehydrated rather than baked at high temps into a kibble. All ingredients are decent quality, with chelated minerals, naturally preserved, and no nasty fillers.
Brilliant!
Where to buy Honest Kitchen cat food
I'm happy to offer the following offer where you'll get 25% off your first order using the link below:
The Honest Kitchen Believes in minimally processed pet food for maximum nutrition. Start serving the first human grade food for pets and receive 25% off your first recurring order. Sign up today!
Or use the price compare:
Honest Kitchen FAQ
Is Honest Kitchen suitable for kittens?
Yes, Honest Kitchen dehydrated cat foods are formulated for all life stages, which is inclusive of the kitten growth phase.
Ingredients
The ingredients of Honest Kitchen cat food (grain free Chicken & Fish recipe):
Dehydrated chicken, dehydrated sweet potatoes, dehydrated potatoes, organic flaxseed, dehydrated eggs, dehydrated white fish, dehydrated chicken bone broth, dehydrated spinach, dehydrated pumpkin, tricalcium phosphate, dried cranberries, dried blueberries, minerals [potassium chloride, choline chloride, potassium iodide, iron amino acid chelate, zinc amino acid chelate, copper amino acid chelate, manganese amino acid chelate, sodium selenite], taurine, vitamins [vitamin e supplement, pantothenic acid (vitamin B5), thiamine mononitrate (vitamin B1), riboflavin (vitamin B2), vitamin D3 supplement, vitamin B12 supplement, pyridoxine (vitamin B6)], dried organic barley grass, dried organic kelp, rosemary extract, turmeric, dried bacillus coagulans fermentation product.
Guaranteed Analysis
The guaranteed analysis of Honest Kitchen cat food (grain free Chicken & Fish recipe):
Honest Kitchen recalls
Honest Kitchen pet food products are produced in a human-grade facility with human grade ingredients. As such quality standards are much higher than pet grade and there are no notable mandatory recalls of the brand.
A small voluntary recall was issued in 2013 with concern over salmonella from a possibly affected spinach ingredient.
There have been no significant recalls and Honest Kitchen can be regarded as safe.
We hope our Honest Kitchen cat food review has helped you decide on a good diet for your feline friend. If it has, please tell others!
Honest Kitchen cat food review
Honest Kitchen cat food is human grade produced in a human grade facility. The product will retain better nutrition from being dried rather than extruded into a kibble. As a high meat protein/fat cat food with an excellent range of ingredients it can be considered high quality and species appropriate for your pet cat!
PROS
Significant meat content
Excellent ingredients throughout
Naturally preserved
Human grade ingredients