Special Kitty Cat Food Review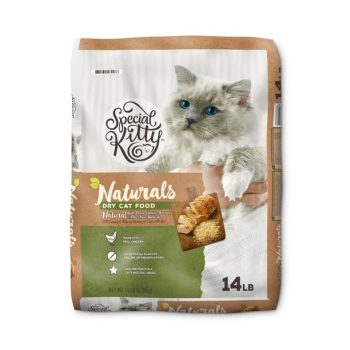 When I studied pet nutrition I was taught a simple fact – cats are carnivores. So why is Special Kitty cat food so full of ingredients cats find hard to digest?
If you don't believe me, read how bad Special Kitty cat food could be for your cat in this enlightening review…
Special Kitty review
What the marketing says
On the Special Kitty page on the Walmart website they say how "special your cat is", and how this is the reason they created this "mouthwatering meal" worthy of your cat.
What BS. Anyone who understands commerce will know they created this to make a profit, so don't think they've done it out of the kindness of their hearts.
Besides, if it really were formulated for your special kitty then it wouldn't contain the ingredients it does.
Read on…
What the ingredients really say
Chicken is the first ingredient. More specifically by-product meal which is probably more chicken carcass in powder form rather than the succulent chicken breast on the front of the bag.
Don't be fooled into thinking Special Kitty is mostly chicken though. Far from it.
The next FOUR ingredients are probably included in the same amount of the chicken, and none of them are ingredients you would associate with a cat as an obligate carnivore.
So what are they?
Corn gluten meal to cheaply ramp up the protein, despite a cat's digestive system geared to digest meat protein not vegetable protein.
It gets worse from there, as you shouldn't be feeding your cat soybean meal, wheat, and brewers rice. So many cats get sick these days from dry kibble, and my guess is ingredients such as these are the most harmful.
Take a look at the Ingredients section below – I've highlighted all these ingredients in red so you can see the truth about Special Kitty.
Wheat is such a problematic grain for cats and dogs. It's hard for them to digest, and also one of the root causes of intolerances, itchy skin, obesity, and likely organ failure down the track (ironically kidney failure is one of the biggest killers of our special kitties).
When we look at the guaranteed analysis we find 38% protein which appears good, but this is more from the corn gluten meal and grains than chicken. 13% fat isn't great either.
Special Kitty can barely be considered cat food, and my recommendation is you avoid it and find something more species appropriate.
I believe Special Kitty is manufactured by the J.M. Smucker Company, who're also behind EverPet and 9 Lives. These foods don't have a good reputation, with the latest recall being Jan 2017.
Walmart has had their pet foods tested positive for the chemical used to put animals to sleep. There are reports that these animals actually ARE used by cheap pet food makers, sold to them by the vets who put the pets to sleep. So in effect, that'd make the eaters of this food potential cannibals. Tasty, eh?? Do you need any more reason to avoid this?
Where to buy Special Kitty cat food?
Special Kitty is a Walmart brand, so that's where you'll find it. But if you've read our Special Kitty cat food review you're probably already thinking of buying something better – view our entire list of cat food reviews.
Ingredients
Ingredients of Special Kitty Naturals Dry Cat Food Chicken formula (note how many fillers in this cat food in red):
Chicken By-product Meal, Corn Gluten Meal, Soybean Meal, Ground Whole Wheat, Brewers Rice, Animal Fat (Preserved with Mixed Tocopherols), Corn Meal, Chicken, Natural Flavor, Salmon, Dicalcium Phosphate, Salt, Potassium Chloride, Brewers Dried Yeast, Choline Chloride, Taurine, Zinc Sulfate, Fish Oil (Preserved with Mixed Tocopherols), Ferrous Sulfate, Vitamin E Supplement, Niacin, Copper Sulfate. Vitamin a Supplement. Manganese Sulfate, Thiamine Mononitrate, Pyridoxine Hydrochloride, D-calcium Pantothenate, Riboflavin Supplement. Biotin, Vitamin by Supplement, Calcium Iodate. Menadione Sodium Bisulfite Complex, Vitamin D3 Supplement, Folic Acid, Sodium Selenite.
Guaranteed Analysis
Guaranteed analysis of Special Kitty Naturals Dry Cat Food Chicken formula:
Special Kitty Cat Food Review
If you read the first ingredient you'll see chicken, but don't be fooled as Special Kitty cat food is more grains and corn than chicken, and not very species-appropriate.