Purina One Cat Food Review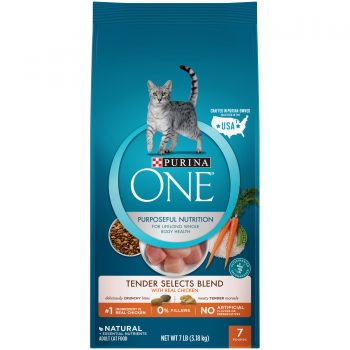 People fail to realise Purina is a Nestle brand (yep, the chocolate bar company). As one of the biggest conglomerates in the world they have a huge budget for marketing, and this is likely the reason people believe Purina is a good brand.
In our Purina ONE cat food review we'll speak of the different formulas, but with a focus on Tender Selects for the sake of a baseline. Grab a cup of tea, put your cat on your lap, and read on…
Purina ONE cat food review – Tender Selects
What the marketing says
The front of the beautifully-designed bag states "#1 ingredient is Real Chicken", but don't believe chicken is the main ingredient as there's labelling trickery at play.
They also boldy state "0% Fillers", but that really depends if you consider rice, corn, soybeans, and wheat as fillers in a diet formulated for obligately carnivorous meat-eating cats 🤷
The third statement on the bag is "No Artificial Flavors or Preservatives", yet on the ingredients list they have a completely ambiguous ingredient "Natural Flavors" – what on Earth could that be?
Here's a list of statements from the Purina ONE website:
Let's take a deep dive into the ingredients of Purina ONE cat food (Tender Selects Blend) and find out what the deal really is…
What the ingredients really say
Usually all the ingredients before "fat" can be considered main ingredients, possibly all in equal amounts. Ingredients on the label of a cat food are listed in percentage order from most to least significant – keep that in mind.
Purina state chicken as the first ingredient, but it's possible the next three are equal. These are rice flour, chicken by-product meal, and corn gluten meal. So two meats to two (what I would call) fillers.
Cats are carnivores and don't need rice or corn in their diet. If they're not required why are they there?
My guess: to keep cost down and profits up.
Or in other words: fillers.
To take it one step further, the chicken as the first ingredient is listed first because it's wet weight, which means once cooked into a kibble it will whittle down to around 30% weight. That means you can assume rice flour is the most significant ingredient, for your meat-eating cat.
You're probably already getting the picture on how well marketed Purina ONE cat food is, but even after the fat content we find soybean meal, whole grain corn, and wheat flour. As fat is 15% it's fair to assume these three ingredients, again not species-appropriate for a carnivorous cat, are also significant.
So how much chicken is actually in the product? Definitely not as much as you'd think with a claim like "#1 ingredient is real chicken" on the front of the bag!
They told us this was a "deliciously meaty blend", yet this doesn't ring true with the amount of corn, wheat, and soybeans.
So, does Purina ONE cat food strike you as "100% filler free"?
We also find this cat food to use food colors (caramel), as if your cat cares about the color of their food.
Carrots and peas may sound like healthy additions, but as these come after salt they'll be below 1% of the product.
Not sounding good is it? In the next section I'll summarise this Purina ONE cat food review, and I'll also talk about the other formulas in the range if you're still considering buying it (or simply want to know more of the trickery).
Should I feed my cat Purina ONE – (a summary)
Honestly, if you're feeding your cat this amount of rice, corn, and wheat, daily, in the form of a moisture-less hard kibble, then I would expect there to be long term health effects, big vets bills, and worst case premature death.
Ironically Purina ONE is one of the best on offer in the Purina range, with the likes of Kit & Kaboodle being comparatively much worse.
Purina ONE is "Recommended by Veterinarians" – what does that mean?
If you've read the review so far you may be confused as to how Purina ONE cat food can be "recommended by veterinarians"?
Well, to start off with Purina have a number of veterinarians in their employment, essentially paid to endorse the company products.
It's also debatable how much a veterinarian knows about nutrition as it's similar in many ways to a human doctor understanding nutrition and diet – there's only a small overlap.
Even at a fundamental level, rice, corn, wheat, and soybeans aren't a natural diet for an animal factually known to be a carnivore (honestly, one of the first points covered when I studied to be a pet nutritionist!).
Companies like Purina (Nestle), as well as Mars who make many cat foods, and Colgate Palmolive who make Hills, spend a great deal of time and money producing scientific "research" designed to market their products. It's a big industry with huge profits, and they won't conduct research to damage their products. Consequentially the science of pet nutrition is very biased.
It may sound like a radical conspiracy, but it's actually just clever marketing – it's very easy to convince intelligent people of anything if you back it up with "science". Usually that science is rarely read and understood, often a mere hypothesis, and once propagated through media and relevant channels quickly becomes understood as substantial fact, when it's not.
That's the reason we feed our carnivorous cats grains, and also a reason why vets blindly endorse these products.
Where to buy Purina ONE cat food


For the best prices why not order on Amazon.com?
What about other Purina ONE formulas?
You'll find a range of Purina ONE formulas tailored to specific conditions, and if your cat has any of these conditions you may feel swayed to buying the product. There's options for Ideal Weight, Hairball, Healthy Kitten, Indoor, Senior, Sensitive Skin & Stomach, and Urinary Tract Health.
Truth is all formulas are similar, and you'll find they're all significantly corn, rice, and wheat. The Sensitive Skin formula doesn't contain wheat, as wheat is one of the main causes of food sensitivities and itchy skin.
Indoor and Senior are less protein and fat, which is a great way of a pet food manufacturer to reduce cost of ingredients yet still charge a premium as it's for a specific cat demographic. I also see it as a fallacy, especially with older cats who still have a strong dependency on meat to retain muscle mass and organ health, whereas reducing these ingredients reduces their chances of a long and healthy senior life. For pet food companies though, the degrading condition of your cat can be attributed to "old age".
Purina ONE Urinary Tract Health Formula looks to be one of the worst, with corn and then more corn as the top two ingredients, alongside brewers rice, wheat flour, and chicken as the main ingredients. Not only does that strike me as terrible, the simple fact it's a dry kibble designed to rectify a condition likely caused from lack of moisture in the diet – it's an absolute fallacy.
None of the Purina ONE cat food products fit with what anyone would consider a carnivore diet, and I wouldn't recommend the brand.
Comparable Products
Nestle Purina have a range of widely sold products, from what I call cheap-and-nasty, to mid-range. None of them strike me as species-appropriate for a cat, but here they are:
Purina Beyond, Cat Chow, Fancy Feast, Friskies, Kit & Kaboodle, and Purina Pro Plan as the top of the range product.
Ingredients
Ingredients of Purina ONE cat food (Tender Selects Blend with Real Chicken):
Chicken, Rice Flour, Chicken By-Product Meal, Corn Gluten Meal, Beef Fat Preserved With Mixed-Tocopherols, Soybean Meal, Whole Grain Corn, Wheat Flour, Natural Flavors, Soy Protein Isolate, Soy Protein Concentrate, Chicory Root, Glycerin, Phosphoric Acid, Calcium Carbonate, Salt, Potassium Chloride, Caramel Color, Carrots (Dried), Peas (Dried), Choline Chloride, Sodium Bisulfate, Taurine.
Minerals
Zinc Sulfate, Ferrous Sulfate, Manganese Sulfate, Copper Sulfate, Calcium Iodate, Sodium Selenite,
Vitamins
Vitamin E Supplement, Niacin (Vitamin B-3), Vitamin A Supplement, Calcium Pantothenate (Vitamin B-5), Thiamine Mononitrate (Vitamin B-1), Riboflavin Supplement (Vitamin B-2), Vitamin B-12 Supplement, Pyridoxine Hydrochloride (Vitamin B-6), Folic Acid (Vitamin B-9), Vitamin D-3 Supplement, Biotin (Vitamin B-7), Menadione Sodium Bisulfite Complex (Vitamin K), L-Cysteine, DL-Methionine
Guaranteed analysis
Guaranteed analysis of Purina ONE cat food (Tender Selects Blend with Real Chicken):
I hope our Purina ONE cat food review has been informative. If it has, please share this with others in your local cat communities. Thank you.
Purina ONE Cat Food Review
All Purina ONE cat foods have common ingredients which aren't considered appropriate for a carnivorous cat - corn, rice, wheat, soybeans. It makes you wonder why Nestle markets their Purina brand with so many misleading statements.
CONS
Rice
Corn
Wheat
Soybeans
Chicken may be the "first" ingredient but not the most significant.