Purina Beneful Dog Food Review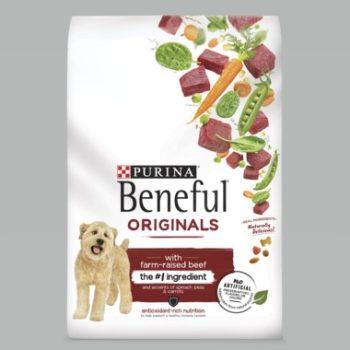 Lots of people feed their dog Purina Beneful. You're probably one of them given you've here reading this review? You want to know if it's a good dog food or not?
I'll give you an educated answer, but I think I can do better – I think I can give you the information you need to make better choices for your dog, so they can live a long healthy life.
Sound good? Let's go…
What you need to know first
"Your dog is a carnivore".
Ok, so maybe you've heard dogs are omnivores, like us? But you must admit they're more like cats than us humans? Sharp teeth. Like to hunt. Prefer a nice juicy steak over a bowl of corn?
Cats are factually carnivores. Undisputed.
Yes, dogs eat other stuff, but it doesn't mean it's healthy for them. They're scavengers so will eat whatever they can get their chops on. Even dog poo.
The digestive system of a dog is more similar to a cat than a human, and that matters. Their shorter digestive tract can effectively process meat. Grains and other stuff not so much.
When it comes to healthy dogs, research has shown they depend on "whole prey ingredients", from animals. A dog food must have these nutrients to be "complete and balanced".
But did you know a dog food can pass the "complete and balanced" test if those few nutrients are added to unhealthy stuff? In reality they're only a small percentage of a dog food. Once boxes are ticked the rest can be rubbish, pretty much.
With all that in mind, the next step on this educational journey is the Purina Beneful dog food review. Let's see whether it sounds healthy or not?
Purina Beneful Dog Food Review (Beneful Originals)
To keep this review short we'll only look at the ingredients of Purina Beneful Originals With Farm-Raised Beef. This will give you all the information you need to figure out if any of the other formulas are any better.
You'll find in BIG LETTERS on the bag that farm-raised beef "is the #1 ingredient". This is where the trickery begins, and you'll feel duped once I tell you why – Pet Food Marketing Trick #1:
When it comes to dog foods the ingredients are listed in order of percentage. You would be forgiven to assume beef is the main ingredient, and a big portion of the dog food?
But this isn't the case.
The following ingredients can be just as much, which in Beneful Originals is probably the next six!
Remember the your-dog-is-a-carnivore thing?
Beef may sound good, but the next ingredients are corn, barley, rice, wheat, soybeans, and corn gluten meal.
If you hate math you can skip this next fact, but if those top 7 ingredients amount to 90% of the dog food, that could make the beef as little as 12%. Less when you realise it's "wet weight", inclusive of around 70% moisture. Once baked into a kibble how much less a percentage would it be?
It makes you wonder how they get all these glowing reviews for Beneful – taken from Purina Beneful's own website. Unfortunately most dog owners think a food is good because their dog eats it or they like how affordable it is.
By now you're probably thinking Purina Beneful isn't as good for your dog as they've led you to believe. Maybe the succulent beef on the bag isn't a true representation of what the food is?
Unless you believe those glowing reviews on the Purina Beneful website, that is 🤔
But back on track…
When we think about all those grains for our pet carnivore, we should also be worried about the problems they may cause with digestion. I find wheat very problematic, and often find dogs fed a kibble with wheat to have rashes, itchy skin, poor coat, or be overweight. Signs that a dog can't digest their diet as well as they should.
Often those issues develop over time, sometimes a matter of years, which is why people rarely consider the dog food as the cause.
But soybeans and corn? For your dog? Imagine the look they'd give you if you filled their bowl with soybeans and corn for dinner!
It doesn't really get any better either, sadly.
Well, you could laugh at "egg and chicken flavor" – so, not egg and chicken, but some kind of flavor? Makes me think of those powders you add to microwave noodles.
And then they have "natural flavor". WTF is that? Seriously?
Glycerin – used to keep food moist, and it also has a sweet flavor which may entice your dog to eat something he probably wouldn't otherwise. Like wheat and soybeans baked into a hard nugget.
But wait!
Look at those yummy veggies on the ingredients list! Spinach! Peas! Carrots! Aren't they worth mentioning?
Well, no, not really. They're 4 ingredients lower than salt, and that will amount to 1% max. Take a guess – 0.1% of the food? Less? Sounds to me like they're included for the benefit of the labelling, not your dog.
And then we have annato color, which according to Dogs Naturally in can "cause food intolerances", and "one study showed it can also cause hypoglycemia (low blood sugar) in dogs".
23% protein is moderate (but how much protein from corn rather than meat?). 12% is on the low side. I estimate carbs to be almost 50% – mostly from the grains.
Should you feed Purina Beneful to your dog?
If you've read the above then you've probably come to a resounding conclusion. Even if that's the case, I hope this review of Beneful has been informative, and I hope it leads you towards better decisions and many years ahead with the healthy dog you love.
Personally I wouldn't feed Purina Beneful to my dog, and I would recommend the same to you.
Below I've kept an original review (from 10 years ago!) in which I mention the lawsuits surrounding the brand. I haven't mentioned recalls – I believe the last Beneful recall was 2016 for the Prepared Meals and Chopped Blends. Not that it matters though, as the key take home points from this review are whether the ingredients are appropriate for your dog. I don't think they are. Do you?
Ingredients
Ingredients of Purina Beneful dog food (Beneful Originals Beef):
Beef, whole grain corn, barley, rice, whole grain wheat, soybean meal, corn gluten meal,
chicken by-product meal, beef fat preserved with mixed-tocopherols, oat meal, egg and chicken flavor,
natural flavor, calcium carbonate, salt, mono and dicalcium phosphate, glycerin, potassium chloride, dried
spinach, dried peas, dried carrots, annatto color, vegetable juice (color), MINERALS [zinc sulfate, ferrous
sulfate, manganese sulfate, copper sulfate, calcium iodate, sodium selenite], VITAMINS [Vitamin E
supplement, niacin (Vitamin B-3), Vitamin A supplement, calcium pantothenate (Vitamin B-5), pyridoxine
hydrochloride (Vitamin B-6), Vitamin B-12 supplement, thiamine mononitrate (Vitamin B-1), Vitamin D-3
supplement, riboflavin supplement (Vitamin B-2), menadione sodium bisulfite complex (Vitamin K), folic
acid (Vitamin B-9), biotin (Vitamin B-7)], choline chloride, carmine, L-Lysine monohydrochloride
Guaranteed Analysis
Guaranteed analysis of Beneful dog food (Beneful Originals Beef):
| | |
| --- | --- |
| Protein | (min) 23% |
| Fat | (min) 12% |
| Crude Fibre | (max) 4% |
| Carbohydrates * | Estimated 47% |
* May be estimated. Read how to calculate carbohydrates in a pet food.
Historical Review (Last Updated April 11th 2013)
I usually remove historical reviews, but it is interesting to see how Purina Beneful dog food has changed over time. A good observation from the ingredients of this formula (circa 2013) is corn is the first ingredient. Chicken is second, but you then have more corn (CGM) and wheat flour. In the updated review (above) they market the product as meat being the first ingredient, but followed by six non-meat ingredients. What this comparison shows is how two formulas can have little meat, but the amount of non-meat ingredients can be used to make meat "first" without having much meat included – cunning, eh?
Purina Beneful has enjoyed quite the reputation in pet food circles among those who may not really know what's in pet foods. You can ask many people what food they feed their dog, and the response is often "Beneful". It's one of the "leading" pet foods in America today.
But is it any good? Well, no. Actually it's downright terrible.
I originally reviewed this food back in 2007, and on an ingredients standpoint alone pointed out how awful it was. This was before the reams of consumer complaints and heartbreaking stories of sick and dying dogs that have persisted over the years. It's always hard to substantiate such a claim as pets can die for many reasons (which always seems to be Purina's answer), but if you think logically – a pet's diet is fundamental to their health.
Pet Food Ratings is an ingredients and analysis review website, so that's what this review is focused on. Beneful have labelled the recently filed class action lawsuit as baseless, but I'm pretty sure I can offer a base. Let's take a look:
The main ingredient is corn, an awful ingredient to make up the foundation of a dog food. A few studies in recent years have shown, in very few cases, corn can be a decent protein source if processed to a very high standard (at cost). Corn in pet food is more often used as a very cheap non-nutritious filler, which, with typical processing is difficult for our dogs to digest. It makes no sense to include corn in a pet food where a decent meat ingredient is a far better inclusion, and that's fact. Beneful is largely made from corn for one reason alone, and that's because cheap ingredients ensure significant profit margins. Good for them, not for your dog.
The protein level in Beneful Original is 21%. This is moderately low for a dog food, and you can be assured the corn is the main contribution to this, not meat protein which is what our dogs need.
So what's the second ingredient? Ah, we find meat – that's good. But it's not, it's by-products, the lowest quality parts of the animal (heads, beaks, feet, etc). It's not legal to sell by-products for human consumption, and it's not healthy for our pets. Look up "4D rendered meat" in Google, and make sure you have a strong stomach. In any case, once this meat is cooked it will lose most of it's weight, which means the third ingredient will likely become more prominent…
…and the third ingredient is, oh dear, more corn. Corn gluten meal is a telltale sign of a cheap dog food. It's used to artificially inflate protein levels where meat should really be used, it lacks essential amino acids (lysine, tryptophan), it's highly allergenic, and can cause gastrointestinal issues. So why's it used? It's cheap.
Then we find wheat flour. Wheat is one of the cheapest, most allergenic grains that can be used to "fill" a pet food. It has no nutritional value. Wheat flour is even worse, and commonly known in the industry as "floor sweepings". We find rice flour too… oh, and speaking of allergens, soy is another one, and guess what, we find that as well. Hat trick!
Beef is completely insignificant as the 7th ingredient, but this justifies having "With Beef" on the front of the packet.
It really doesn't sound appealing does it? There's more:
Propylene Glycol – This is what antifreeze is made of! It's banned by the FDA in cat food! It's used here as a preservative, but it's definitely not something you want to be feeding your dog day in day out, which is what most dog owners do. Dicalcium phosphate can become toxic. Calcium propionate is a potentially carcinogenic chemical. These are warning signs to me, are they warning signs to you?
Look how high sugar is on the ingredient list. Sugar shouldn't even be in a pet food. Salt shouldn't be included either. Your dog doesn't need the extra sodium (or sugar). They're used to improve flavor which is otherwise lacking.
So if you put it all together it's a disaster. Buy a better food, save your money on vets bills, and save the heartbreak of having a sick pet.
If you look on the Beneful website there are many claims about how good their food is. These claims, dear consumers, are baseless.
Where to buy?

What's good about this food….
Not much of anything.
….and what's not so good.
Widespread use of corn, by-products and animal digest (rendered meats inclusive of diseased animals and lots of nasties). All common allergens such as corn, wheat, and soy. Chemicals, toxins, carcinogenics. Sugar and salt. Artificial colors (I doubt your dogs care about color!). It's appaling.
Ingredients:
Ground yellow corn, chicken by-product meal, corn gluten meal, whole wheat flour, animal fat preserved with mixed-tocopherols, rice flour, beef, soy flour, meat and bone meal, propylene glycol, sugar, tricalcium phosphate, salt, phosphoric acid, potassium chloride, animal digest, sorbic acid (a preservative), mono and dicalcium phosphate, dried spinach, dried peas, dried carrots, L-Lysine monohydrochloride, calcium propionate (a preservative), choline chloride, zinc sulfate, Vitamin E supplement, ferrous sulfate, manganese sulfate, Red 40, niacin, Vitamin A supplement, Yellow 6, Yellow 5, copper sulfate, Vitamin B-12 supplement, calcium pantothenate, Blue 2, thiamine mononitrate, garlic oil, pyridoxine hydrochloride, riboflavin supplement, Vitamin D-3 supplement, calcium iodate, menadione sodium bisulfite complex (source of Vitamin K activity), folic acid, biotin, sodium selenite.
Purina Beneful Dog Food Review
Beneful is such a popular dog food, which isn't surprising given the affordability. Unfortunately cheap rarely means quality, and when we're talking about a product to keep your much loved dog "healthy", it may not be your best decision.
CONS
Lots of grains
Ambiguous "flavors"
Protein from corn isn't as good as protein from meat
Fat content on the low side, which means carbohydrates on the high side (carbs turn to sugars)
Questionable history of lawsuits